Did some mega shopping today. Mom and I went to Walmart (2), Earth Fare, Target, and Publix to check out the after Christmas discounts and get some free stuff.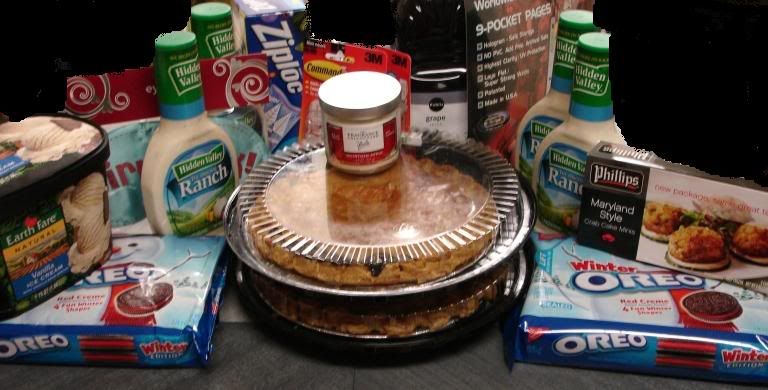 Missing from the pic is 2 large containers of Dean's French Onion Dip. I searched 2 Walmarts to get that 1 box of Ziplocs (the Christmas ones are only $1!). The ice cream, 1 pie, and the candle were free. The grape juice was .01 at Publix (the penny item from the Sunday ad). The baseball card holders are for coupons (I'll cover that in my next post).

Trip Summary:

I bought 19 items in total.

Out of pocket with tax: $36.20

Savings and coupons: $48.86

---------------------------------

saved 57% ----- actually a little more*

*After you get home or after paying, it is very important to check your receipt(s). Sometimes the store will have a survey to fill out with the possibility of a prize, you may make a mistake you can learn from, or the cashier may make a mistake. In this case, my Publix cashier charged me for an item I didn't buy. That item cost almost $3, so my savings are a little more than indicated. Always check your receipts!