Went to Walgreens today because I had 2 $5 Register Rewards (Walgreens Dollars) from 12/16 that expired today. I didn't really need anything, but I wasn't about to throw away $10!
I went to
IHeartWags
to help get my list together. The links to online coupons and showing how to combine with store coupons/handouts are very useful. I had a very hard time getting ahold of the Healthy Savings booklet, but I was able to use it to save a little more.
Walgreens trip:
I bought Viva paper towels, 1 Hot Wheels Car, 1 Walgreens Aloe Moisturizer, 1 Theraflu Liquid Sinus&Cold, 1 Theraflu 6pk Flu&Congestion, and 5 Yes to Carrots Lip Balms. I did 2 transactions because the special RR could not be used together.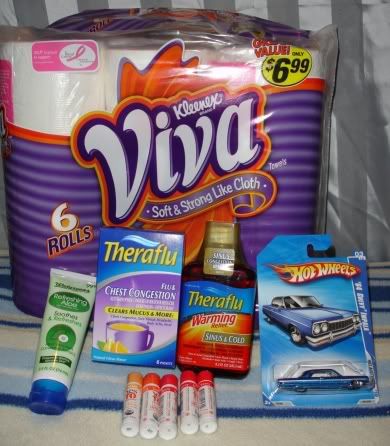 I had these coupons:
$2 manufacturer coupon for Viva
here
$2 manufacturer coupon for Theraflu (x2)
here
(where it says "get a free coupon")
$2 Walgreens coupon for Viva
here
or in-store
$2 Walgreens "Healthy Savings" booklet (in-store only)
In ad coupon to reduce Hot Wheels to .49
*There are $1 Yes to Carrots coupons in some Walgreens, but I had none.*
Subtotal before savings: $29.28
Paid $2.36 out of pocket after coupons and $10 in Register Rewards (tax included)
Received $3 in Register Rewards (from the Theraflu)
----------------------------------------
saved 26.92 ----- 92% off!
Thanks so much to
IHeartWags
!